Cardiff Western District SPS
Increasing the resilience of a critical sewage pumping station by upgrading the power distribution and control networks
Cardiff Western District Sewage Pumping Station (CWD SPS) receives sewage from the western area of Cardiff for onward pumping to Cog Moors WwTW via twin rising mains. The pumping station is a strategic asset and is operationally critical to Welsh Water. Failure of this asset would have severe business impacts. 
During AMP6, a root cause analysis study was carried out to establish risk areas for the site. This identified a number of root causes giving rise to operational risks. It was decided that high priority items relating to the power supply and control hardware would be dealt with by this project.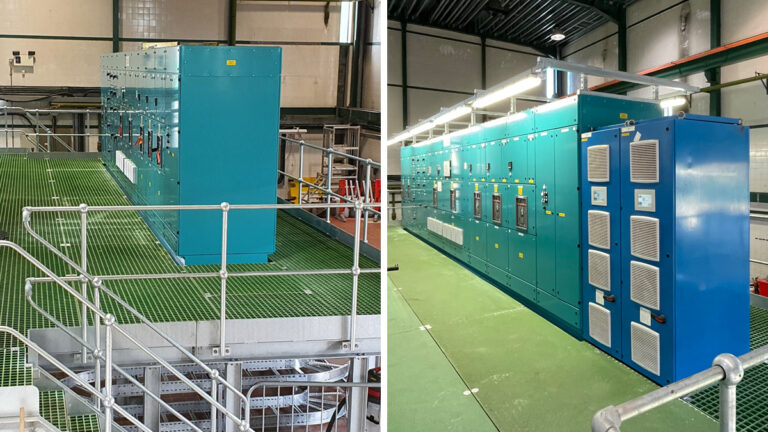 The installation of the new LVDB platform and LVDB was carried out after the generator hall was emptied. All components were fabricated off site to the maximum size possible to minimise the installation time and requirements on site. Electrical installation then followed for the new LV power, signal and control networks to connect the new generators, existing MCC panels and new LVDB together. 
Following successful testing and commissioning of the new LVDB, a major milestone was achieved in the changeover of the new Shenton generators from supplementary power to standby power mode and the commissioning of the new 2.5MVA HV transformer.
Cardiff WDPS: Supply chain – key participants
Client: Welsh Water
Principal contractor: Morgan Sindall Construction & Infrastructure Ltd
Designer: Arup
Mechanical installation: Whitland Engineering Ltd
HV electrical installation & earthing contractor: Hornbill Engineering Ltd
HV switchgear contractor: SPE Energy Ltd
LV switchgear contractor: General Panel Systems Ltd
LV electrical installation: Zone Electrical Ltd
Generators: Shenton Group UK
Kiosks: Morgan Marine
Software integration: General Panel Systems Ltd via GPS Links
SCADA: Servelec Technologies